Diana Heise
BIO
My work has been exhibited in galleries and festivals internationally, including at the Brooklyn Museum, the Kemper Museum, the Film Anthology Archives, Cantor Art Center, Institut Français de Maurice, Soho20 Chelsea Gallery, Des Moines Art Center, the H&R Block Artspace, Drain and Cinemazzurro, Ancona Italy, among others. I am a recipient of a Fulbright Fellowship in the Creative and Performing Arts, a Performance Art Fund Grant from the Franklin Furnace Inc. as well as a Presidential Fellowship at the American University in Cairo. I have spoken about my work at venues such as the Parsons School of Art and Design, Stanford University and the Kemper Museum of Contemporary Art. I hold a MFA in Photography, Video and Related Media from the School of Visual Arts in New York, NY and a BA in Art History from Vassar College. I am an Assistant Professor of Photography and Filmmaking at the Kansas City Art Institute. I live and work in North Hero VT, Kansas City MO and Beau Bassin Mauritius.
ABOUT THE ARTIST
My practice explores the connective potential and paradoxes of our collective cultural and environmental existence. My process begins with deep observation of people and ecological contexts, observations made both with my eyes and sensations in my body. I embed myself in cultural practices in order to form deep connections and understanding; most recently in Mauritius where I have learned the local Kreol, been entrenched in the cultural heritage movement, and educated myself on the ecological concerns of the area. I write and make in response to the situations that I experience, observe or read about, tackling embedded systems of colonization, whether that be the colonization of the female body, global history which speaks the story of the oppressor and ecocide.
These processes of procurement manifest as multi-pronged projects that generate physical performative interactions, cinematic experiences, books, loose narratives and interventions. These projects are intended to engage audiences with their sense of responsibility to their social and environmental world. By using seeds, plants, animals bones and human hands, I wish to return our focus to the care needed to support the growth of seeds, the cleansing of the mind and the awareness required to participate ethically in our global-local society.
Links to previous work:

Breath Take (2011-2012)
Take Only What You Can Give (2011)
ABOUT THE WORK
The Sea We Make generates aesthetic experiences for participants in and outside the African island nation of Mauritius to bear witness to shifts caused by climate change. The project addresses Mauritian lagoon ecology as an indicator of grave impacts. Ocean acidification is rapidly dissolving the corals, which is the basis of the lagoon ecosystem. Our research has focused on the health of fish, the effects on their declined population on the artisanal fishing community and these implications of climate change on the social structures in Mauritius. This project will manifest as three aspects: information sharing events, museum installations and digital takeaways.
Nirveda Alleck
BIO
Born in 1975, Nirveda Alleck is a multidisciplinary artist from Mauritius. She undertook her undergraduate studies at Michaelis School of Fine Art in South Africa, and did her MFA at the Glasgow School of Art in Scotland in 2001. She has participated in international workshops in Namibia, South Africa, India, Lebanon, Mali and Mauritius, and has held residencies at the Bag Factory Studios in Johannesburg as well as in Scotland, Reunion Island, Namibia, Mali, and Mauritius. She was offered a Francis Greenburger Fellowship in 2011 to undertake a residency at Art Omi in the USA. Nirveda Alleck has participated in numerous international exhibitions: Diplomatic Immunity in NY in 2001, 11th Triennale India in 2005, Pan African Arts Festival in Algeria in 2009, Francophonie Games in Beirut, Arts Actuels Biennale in Reunion Island, World Festival of Black Arts in Dakar. She was part of Focus 11 Contemporary Art Africa at Art Basel in 2011, and also received in the same year, the Bank One Emma Award in Arts and Culture in Mauritius. Her work was amongst the 3 shortlisted for the FNB Johannesburg Art Fair Prize in 2011. Alleck was a laureate at the Dak'Art Biennale 2010, where she was awarded the Soleil d'Afrique Prize, and she was again part of the Dakar Biennale in 2012. Her recent video works have been show at the College des Bernardins in Paris, Marakesh Biennale Parallel projects, Africa Utopia in London, Ben Uri Gallery in the UK, and Analogue Eye at the National Arts Festival in South Africa and in Mannheim Germany. She is currently a part time lecturer in Fine Arts at the MGI, University of Mauritius.
ABOUT THE WORK
My work uses the support of paintings, videos, installations and performance.
Over the years, my work has been about discovering and analyzing people and cultures from different places, and reflecting upon the characteristics that are distinct to them. I have worked with oral narratives and by interacting with my subjects, I attempt to synthesize preconceptions with the real, both in installations, and paintings.
In the Continuum series, done in South Africa, Mauritius, Beirut, the Chagos Islands, Reunion Island, Mali and the USA, I have been fixating on one constant: the human subject. By the erasing and whitening out of the background of these paintings (and videos), the immediate visual context is negated. But by the same token, this augments the sense of the presence of these subjects, who are fixed on the surface of the canvases. The act of painting photorealistic figures is not new, but lifting the figures out of their adjacent visual backgrounds makes them part of a larger 'diasporic' state of being, almost a conceptual family. A mock-anthropological thoroughness in referencing the photographic material that I use as a source ensures that there is no sentimentality. The portraying of these subjects eschews a colonial gaze, refuses a rapport de force, revealing instead, the invisible forces that give shape to subjectivities. At the same time, lifting a tree out of its natural state and into a gravity defying position allows for meaning to be created and permeated, as stories that unfold over generations.
Performance and imagined rituals are increasingly part of my practice. These are silent performances, which are recorded on video and shown as such. I am interested in all that is ephemeral and that disperses itself, elements that trigger new meaning like water and wool or dandelion seeds. I feel a lot that the construction of meaning is vital in not only my work, but in life and the way we live it. The element of water is predominant and acts as a vehicle for thought and purity.
Related Work:
BIO
Shiraz Bayjoo is a London based multidisciplinary artist, originally from Mauritius. In recent years he has undertaken a series of community related residencies, which has led his practice towards increased social engagement. Bayjoo studied at the University of Wales Institute, Cardiff and was artist in residence at Whitechapel gallery during 2011. He has exhibited with Tate Britain and the Institute for International Visual Art, and is a recipient of the Gasworks fellowship.
ABOUT THE ARTIST
"My works explore the tensions and dialogue that arise through processing the emotive icons of disappearing and fracturing cultural and religious identities through the language and gestures of abstraction. Tracing these narratives I find a personal resonance within the dynamism of groups created through divergent shared affinities. I have spent the last five years developing a discourse that combines research with communities and archives; culminating in a multi disciplinary practice of video, painting and installation. Images are broken down, re-explored and re-situated. These compositions are subtle and removed from their literal contexts, lending themselves to an idea of universal experience.
I am interested in ideas of nationhood and the exploration of identity and histories through using photographs, and artefacts stored in public and personal archives. I am concerned with how the wider public's perception of events and histories is influenced or differs from what is conveyed or captured in the more dynamic collections held in archives. Through investigating themes of migration and trade, the work explores these complex colonial histories and relationships, and enquires into the challenge of authoring of collective identity in the post-colonial world."
ABOUT THE WORK
Rooted in the historical, visual, and natural histories of Mauritius, Ile de France is a multifaceted project concerned with the colonial past of the small island nation. Exhibiting as a multimedia installation, the project features reclaimed wood and furniture, painted and superimposed with archival images and portraits, accompanied by a film that functions as both a backdrop and an introduction to the themes and landscapes of the work.
In dialogue with the complexities of Mauritius's past and present, Ile de France charts the industrial and political development of colonial Mauritius against the fracturing and hybridizing identities of its people. Ile de France inevitably becomes part of the archive it draws meaning from, where through contemporary society a more complex layering of cultural takeovers and integrations have occurred and remain visible today.
The ocean, however, remains the constant, real owner of these isles; featured in panning film shots, there is a sense that this history is only a footnote in a greater story.
ALEX DUNCAN
"I am fascinated by where and how we place ourselves in the world, the position of the body in relationship to other objects and situations."
ABOUT THE ARTIST

Alex Duncan was born in Swansea in 1985. He studied at Swansea College of Art (UTSWD) and in 2015 completed an MA in Sculpture at the Royal College of Art, London. Alexander works primarily with sculpture, sought objects, video and photography, exhibiting recently in the London Open at the Whitechapel Gallery; Adjacent Realities at the Austrian Culture Forum, London and Mediterranea 17, La Fabricca del Vapore, Milan. He was the recipient of the 2015 Wakelin Award, organized by the Glynn Vivian Art Gallery in Swansea and was awarded a Royal British Society of Sculptors bursary.

ABOUT THE WORK

Cove (2007-2012) articulates Duncan's interest in spatial and relational positions by using polyurethane foam, which he associates with "in-between" spaces such as structural insulation, and how this collects in coves, inlets and slips, themselves forgotten in-between spaces in the landscape. The mounds of polyurethane pellets collected and displayed by Duncan convey this material's violent and ubiquitous presence in the landscape. Like Swimming (2014-15) expresses a similar interest in buoyant materials, where Duncan gives ordinary pool floats new weight by casting them in concrete. The deceptive weight of these 'floats' is explored in the video Wavy Gravy (2014), which shows motion in a densely packed wave pool, with bodies rising and falling engaged with their own changing understanding of their own weight, exploring realities and artificialities of motion and perception. Netsuke, made with contemporary netsuke carver Peter Welsh, also engages with artificiality by referring to the design of a plastic soy sauce bottle that mimics traditional netsuke carving. The design is "recycled" by these artists, who carve it from a ram horn and mammoth's tusk.
Website: http://www.alexanderpaulduncan.com/
JULIA DAVIS
"The primary focus of my research investigates the perceptions of and relationships between places, spaces and human habitation. My questions revolve around how these perceptions underpin our sense of self as well as how landscape is cultural space – a space formed by and informing culture."
ABOUT THE ARTIST
Julia Davis is a site-specific artist based in Sydney, Australia. Over the past decade Davis' work has been installed in salt lakes, deserts, coastal precincts, parklands, galleries and built environments. Her practice explores the perceptions and relationships between objects, places and spaces. More recently, Davis' work has attended to the viewer's experiential reading of space in terms of temporality and duration. She has exhibited in Australia, Germany, Italy and Spain, and is the recipient of numerous awards including the NAVA NSW artist grant (2011), the Helen Lempriere National Sculpture Award (2007), the Woollahra Sculpture Prize (2006) and the NGSW Director's prize (2002). She currently teaches sculpture at TAFE and holds an MVA from Sydney College of Arts.
ABOUT THE WORK
Consilience: as the world turns (2013/14) explores the effect of time on understandings of the body in relation to landscape and how this underpins our sense of self and place. She often works in 'active' landscapes such as deserts, volcanic areas, coastal precincts and salt lakes and is interested in the idea that landscape is cultural space – a space informed by and informing culture. In geological time, the landscape moves, pulses and crashes in processes of coming into and out of existence. The 'active' places she refers to mirror the fragile human experience of movement, instability, rhythm, reflection and change. In her work, geological time and human perception merge into a single spatial experience and take us closer to a sense of the world as our place.
Website: www.juliadavis.com.au
Julia Davis Consilience was featured in the first Ephemeral Coast exhibition. She remains a collaborator on the project.
Pamela Longobardi
"I am a seeker, documenter, cataloger and communicator of my particular time walking (and swimming) on this planet: our global culture is in the process of life-altering change, and I feel that my work bears witness to this."
ABOUT THE ARTIST

Pam Longobardi is an internationally acclaimed artist, scientist, and activist currently living and working in Atlanta, and is a Professor of Art at Georgia State University. In both public and private collections, with exhibitions across the globe, in museums, galleries and public spaces, Longobardi continues her collection, examination and exposition of the physical marker of the Anthropocene, the drifting plastic object. In 2014, Longobardi was awarded the title of Distinguished University Professor, and has been named Oceanic Society's Artist-In-Residence.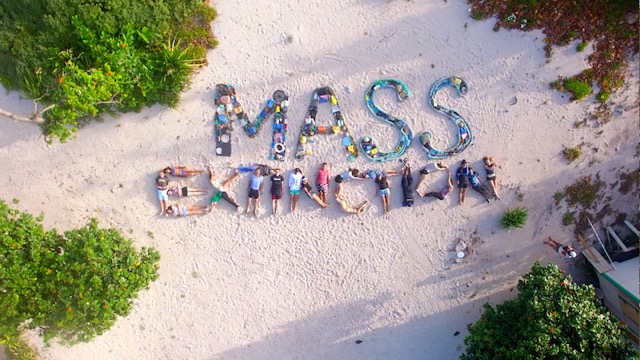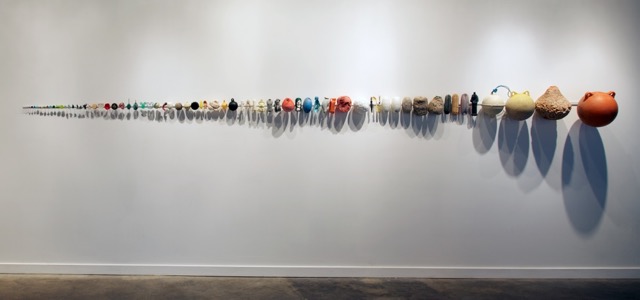 ABOUT THE WORK

The Drifters Project is a collaborative global artistic research-based initiative involving the accumulation, documentation, and transformation of oceanic plastic into installations and photography. Longobardi provides us with a visual statement about the engine of global consumption and the impact of plastic objects on the world's most remote places and creatures. With Ephemeral Coast, Longobardi will speak to her Drifters Project in Ottawa, Canada, alongside the first Canadian exhibition of her work. She is also a contributor to a workshop held at the University of Ottawa to engage scholars, researchers and activists in interdisciplinary discussions around the changing state of the world's oceans and coastlines.
Website: http://www.pamlongobardi.com/
Pam Longobardi was the 'Feature Artist' in the Junk Ocean issue of Drain Magazine, which was published in dialogue with Ephemeral Coast. Celina Jeffery also interviewed her in this issue which can be found here:
http://drainmag.com/pam-longobardi-the-ocean-gleaner/